Klaus und Christiane Müller
Visionary Founder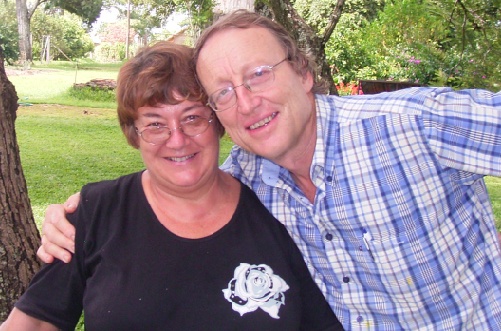 The Vision
Born in Germany in 1949, we met in West-Berlin during our apprenticeship years. In 1972 Klaus visited Zambia and Kenya for two months. The impressions he came back with and the necessity for education, awakened the determination and vision for Klaus to return to Zambia to teach agriculture. After he came back with this vision, we got married in 1974 and then left Germany for Texas, where Klaus spent 4 years at Texas Tech University studying agricultural engineering.
Moving to Zambia
In 1979 we then moved to Zambia. Which, at that, time was quite another ballgame of adventure compared to the connected 21st century. We spend the first 10 years in the Namwianga Missionary in Kalomo. Klaus as a teacher at the secondary school and Christiane as the school's secretary. Klaus was responsible for the rehabilitation of the mission's neglected farm. Over the years it became clear, that the general school education was not enough to give local students adequate career chances.
After visiting other agricultural training centres in the country the idea formed that the theoretical education must be linked with practical execution. For many years now, Klaus manages the Agriculture Training College – he is principal, farmer, accountant and mechanic – working in a developing country means being personally responsible for everything. Christiane is the baker, milker, gardener – bread, butter, jam (marmalade) and cheese are produced on the farm, vegetables and fruit grow in the garden and need to be processed daily.
We have three grown up kids. All of them were born in Zambia. Two live in Germany today, one in South Africa.
Davison Hangombe
Deputy Headmaster, Agricultural College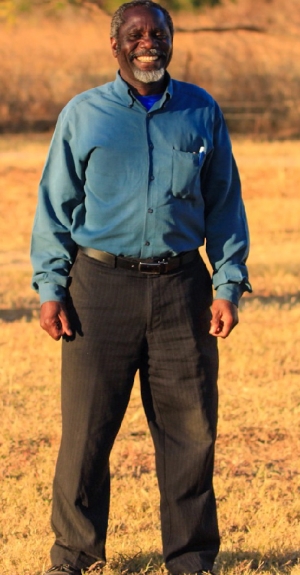 Born in 1961 in Choma District Zambia, Davison has been working at the Agriculture College since 1996. From 1978 to 1982 he was a pupil at Namwianga Christian Secondary School. During that time Klaus Müller was his teacher in agricultural science. After completing the 12. Grade he went to train at Chipembe Farm College where he got a Certificate in Agriculture. Between 1987 and 1996 he worked at the Nawianga Mission as a farm manager as well as teaching agricultural science at the Secondary school.
Since 1989 he is married to his one wife, Petronella, and they have four children, three girls and a boy. Petronella is a teacher at Good Hope Basic School teaching home economics as well as being deputy principal. Davison's expertise is in livestock breeding. Beyond my work at the Agriculture College he has his own farm, is a deacon in the Twin Fountain Congregation and is involved in numerous community projects and activities trying to improve people's lives' economically. Such as honorary chairman in the Kolomo milk cooperative or enjoying fellowship with two or more to share in God's word.
About his work Davison says:
the motivation for me to work as an agricultural teacher is that I see a lot of potential in Zambia in the agricultural sector. There are so many youths, who have no idea about proper agricultural land use. We can teach them agriculture, helping to secure basic physical need. Above all training them in understanding the world from the perspective of God's word and the gospel. And surely, I simply like agriculture and I enjoy it.
Aswelo Tembo
Teacher, Agricultural College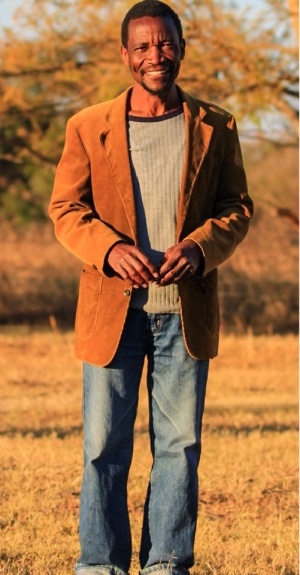 Aswelo was born 1965 in Nyimba District in the Eastern Province of Zambia. In 1969 his family relocated to the south to Livingstone where he went to primary and secondary school. In 1980 he was baptized. Between 1985 and 1988 he did his diploma agriculture course in the then German Democratic Republic (GDR).
Back in Zambia he worked for the government as an Agricultural Extension Officer from 1989-1994. In 1995 he started teaching at the Twin Fountain Agricultural Institute (ATI). However, in 1999, he left again, going back to the Eastern Province to build an Agriculture Business Centre. Here he taught young farmers, focusing on sustainable agriculture and the integration of technology and environment. 2006 he came back to the ATI maintaining this focal point. Important sub-topics being preventing deforestation, erosion, overfishing and poaching. When not teaching at the Institute he likes talking about Jesus Christ of Nazareth to other people.
Aswelo has been married to his wife, Emily, since 1993. They have a daughter and a son.
About his work Aswelo says:
I am inspired by my job teaching young Zambians and helping them develop a career path in Agriculture, because without farmers there is no food. I wouldn't describe my lessons as funny or interesting, much rather as factual, a matter of life and death. My lessons always start with a bible verse that introduces the topic, i.e. when its about weeds we start with Matthew 13; 24-30. Here we read that a weed is a plant that is growing there where the farmer does not want it. In Romans 10; 16-21 we learn about purifying olive trees. At the end of the day I want to be a source of inspiration to youths, I want to be an example as Jesus was.
James
Teacher, Agricultural College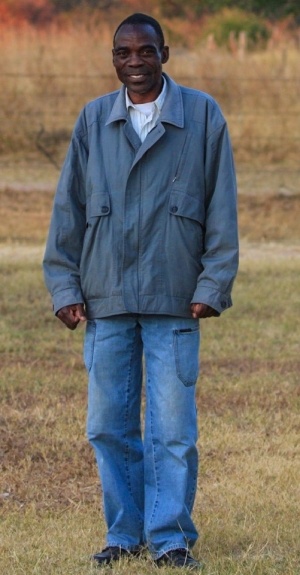 James was born in 1963, is married and has three children, two sons and a daughter. He graduated as a student of the general agriculture course at Kalulushi Farm College in the Copperbelt province of Zambia. Then he went to the Zambian Centre for Horticultural Training and specialized on horticultural crops for one year. After that James worked at the Zambia Sugar company for 9 years as a field supervisor. In 2010 he joined the Twin Fountain Agricultural College as a teacher. During that time, he also concluded a teaching methodology course at TVTC in Luashya, Zambia.
His hobbies include: Reading the Bible and Christian books, as well as working in the garden.
About his work James says:
I like to work at Twin Fountain Agricultural College simply because of my desire to inspire youths to become future farmers and contribute to the economy of Zambia by self-employment. The most important part of my stay at Twin Fountain, is to show the students the importance of Christianity.
Heinz und Ruth Müller
Visionary Founder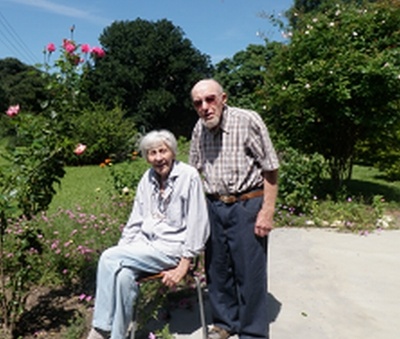 Heinz (1923-2015) and Ruth (1925-2015) met after WWII in the "hessian outback". In 1947 they married in Weidenhausen and despite both being accountants, community church work becomes their life's-work.
Church Work in Germany
In 1953 they move to Frankfurt to lead the Church of Christ. In 1956 the American church in Augsburg asks them to establish a German speaking church. The next 12 years they live and work in Augsburg.
Their three sons, Klaus being the middle one, grow up and go to school in Augsburg. Ruth has a big vegetable garden to feed her hungry sons and countless visitors. In 1968 Heinz and Ruth move to Berlin to lead the congregation there. They also have an evangelical bookstore in Steglitz/Friedenau. With the help of friends, Heinz founders a publishing association in 1966 and when the Müller's move to Kelkheim in the 70s, he starts traveling as a sales representative for the Brunnenverlag.
In 1979 and 1990 they yet again pack their things and move to Queckborn and Dorf-Güll respectively, which will be their last hometowns in Germany.
Moving to Zambia
The first couple of years after Heinz and Ruth retired, they always spent half a year in Germany, then half a year in Zambia till they finally decided to move one last time in 1994. At the age of 70 they come to Zambia for good.
Now Heinz could fully dedicate to the building and development of the Good Hope Basic School, which he had already started. On the farm Ruth also had a big vegetable garden and orchard as well as tending to the medical needs of the farm works. Even on Twin Fountain they are both very much involved in the congregation.
In 2007 Heinz and Ruth celebrate their 60. wedding anniversary. With their life experience and wisdom, they are a huge enrichment to family and friends.
SOME WORDS ABOUT US
The over 30 year long continuous on-site work is supported by two registered associations. All the work in administration, finance and PR is done voluntarily.
Good Hope Zambia e.V. (Germany)
Roland Stengl, Treasurer
Born 1955, tax advisor from Frankfurt am Main
Isabel Denk-Beaury, Commitee Member
Born 1970, teacher from Wiesbaden
The education and development of Zambian kids and young people are very close to my heart. I want to contribute so that they as well as their country has a brighter future.
Michael Fischer, Chairman
Born 1982, Sysamin, currently living in Idstein
Good Hope Zambia (SWITZERLAND)
Linda Wohlfarth, President and Co-Founder
Born 1985, Executive Assistant & Marketing from Luzern
I strongly believe that education can change people's lives by giving them options, ideas and perspectives. The thought that Good Hope Zambia affords this opportunity to hundreds of students every year is my motivation to support this initiative.
Julian Röger, Finance and Co-Founder
Born 1984, Head Business Management Legal and Compliance
Amadeus Müller-Daubermann, Strategy, PR and Founder
Born 1983, Head of IT Strategy, Transformation & Controlling from Zürich
There is no greater joy than enabling true hope and profound change for the better in the life of others.